Tables & Accessories
https://jdsupplies.be/wp-content/uploads/2016/01/hoofdafbeelding-tablesWin-speeltafels-1024x592.png
1024
592
Joris
Joris
http://2.gravatar.com/avatar/?s=96&d=mm&r=g
CT01

This custom design card table standard range of tables is a low budget model. It is perfect for promotional casinos, dealer schools or home use.Due to low price and short manufacturing time this model can also become a solution when a quick opening of a casino is required.This model complies with all quality and operational requirements for casino tables.

CT02

Classic traditional design table meeting all gaming industry quality standards.Table top has no chiprack. Armrest is upholstered in Ambla vinyl.Table base is custom veneered with glossy finish. Brass foot rest.

CT03

Table with deluxe finishing and wide choice of options.
Classic design table top fitted with a chip rack and brass ash trays. Armrest is upholstered in natural leather.
Deluxe style table base with glossy finish.

CT04

Classic design table. This model will blend in any casino interior.
Classic deluxe style table top fitted with a chip rack and brass ash trays and drink holders. Armrest is upholstered in vinyl.
Coated table base in standard finish with a brass foot rest.

CT05

Table with standard table top and X-shaped base with VIP black piano finishing.
Base is fitted with brass base supports and a foot rest.

CT06

Card table of exclusive custom design for Hi-End casinos and VIP rooms.
Two level table top with solid mahogany armrest with soft inserts. Brass ash trays and drink holders. Solid mahogany float tray.
X-shaped VIP style base with brass base supports and a foot rest.

CT07

Table of modern design with deluxe finishing and a wide choice of finishing options.
New design table top fitted with a chip rack and brass ash trays. Armrest is upholstered in vinyl.
VIP style X-shaped base with brass base supports and a foot rest.

CT08

Table of modern design with deluxe finishing and a wide choice of finishing options.
New design table top fitted with a chip rack and brass ash trays. Armrest is upholstered in vinyl.
VIP style X-shaped base with brass base supports and a foot rest.

CT09

Exclusive design table. Two level top for maximum comfort and security. Perfect for VIP rooms.
Table top is fitted with a chip rack and brass ash trays and drink holders. Armrest is upholstered in vinyl. VIP style base with mahogany finish, brass base supports and a foot rest.

CT10

The Super Light System (SLS) can be installed on various models of tables.
Using a remote control it is possible to change illumination colour.Operators can either choose a permanent illumination colour or make a sequence of changing colours.For a modest extra cost SLS makes casino tables incredibly eye-catching.Operators can also match the illumination colours with the colour of their table layouts or their casino interior decoration.

CT11

Techno style design. Stable base. Can be equipped with anti-smoking air conditioning system meeting EU anti-smoking regulations. Table top is fitted with a chip rack and stainless steel ash trays and drink holders. Base is finished in brushed aluminium plastic. Stailess steel foot rest.

CT12

A new range of tables.
The tables have perforated barrel bases with bright light coming from inside.
Perforation can be done in a form of a logo or it can present some theme, for example, space theme.
The tables can be manufactured in Classic or techno styles with brass or stainless still accessories. Different colours of blue, red and green can be used.

CT13

Exclusive VIP style table with white piano finish.
Two level table top.

CT14

Exclusive VIP style table with white piano finish.
Two level table top. Lighted base. PowerFloat tray. Media display.

CT15

Innovative design perfect for installation of JackPot and table management systems.
Shown with decorative mesh and back light.Two level table top with mahogany armrest fitted with soft inserts.

CT16

Modern techno style design table.

CT17

VIP style table finished in mahogany.

CT18

Single level table top with mahogany armrest with soft inserts.

CT19

This table has a stable base that allows covering from view electronic equipment such as management and Jackpot systems.
The table is also fitted with a new PowerFloat, which is operated using an electric motor and high security switch lock.
PowerFloat has a transparent plastic cover that slides in and out.
PowerFloat is easier and safer to operate than traditional chip trays.

CT20

CT21

CT22

 

AR01

This low budget model is perfect for promotional casinos, dealer schools or home use.
Due to low price and short manufacturing time this model can also become a solution when a quick opening of a casino is required.
This model fully complies with all quality and operational requirements for casino tables.

 

AR02

Classic traditional design. This model will fit in any casino interior.
Table base is finished in mahogany with mat finish. Brass footrest and wheel surround.
Table top without a chiprack. Armrest is upholstered in black vinyl.

AR03

Modern design and solid construction.
Table top without a chiprack. Armrest is upholstered in Ambla vinyl.
VIP style base with black piano finish and brass footrest.

AR04

Modern design and solid construction.
Table top without a chiprack. Armrest is upholstered in Ambla vinyl.
VIP style base with black piano finish and brass footrest.

AR05

Modern design and solid construction.
Table top is in deluxe style with a chiprack. Armrest is upholstered in Ambla vinyl.
VIP style base custom veneered. Brass footrest and base supports.
Customer's logo on the sides. (Price on request)

AR06

Modern design and solid construction.
Table top is in deluxe style with a chiprack. Armrest is upholstered in Ambla vinyl.
VIP style base custom veneered. Brass footrest and base supports. Customer's logo on the sides.

AR07

New and exclusive design combined with high-end finishing.
VIP style custom finished base with brass supports. No foot rest.
Table top is fitted with a chip rack with brass ash trays and drink holders. Armrest is upholstered in Ambla vinyl.

AR08

New and exclusive design combined with high-end finishing.
VIP style base with brass supports and foot rest.
Table top is fitted with a chip rack with brass ash trays and drink holders. Armrest is upholstered in Ambla vinyl.

AR09

New and exclusive design combined with high-end finishing.
VIP style base with brass supports. No foot rest.
VIP style two level table top is fitted with a chip rack with brass ash trays and drink holders. Armrest is upholstered in Ambla vinyl.

AR10

Techno style table with a wide choice of finishing options.
Table top is fitted with a chip rack with stainless steel drink holders and ash trays.
Table base has a stainless steel foot rest.

AR11

Techno design combined with high-end finishing. All metal part are in chrome finish.
Table top is fitted with a chip rack with stainless steel ashtrays and drink holders. Wheel checks cover is also installed. Armrest is upholstered in Ambla vinyl.

AR12

VIP style table with a wide choice of options.
Table top is fitted with a solid mahogany armrest with soft inserts.
VIP style base with a brass foot rest.

AR13

Table with deluxe finishing and a wide choice options.
This table is equipped with an adjustable platform for balancing the roulette wheel.

AR14

Revolutionary and exclusive design.
VIP style custom design table top with a chip rack and a solid mahogany armrest.
VIP style base with a brass foot rest.

AR15

Techno design combined with high-end finishing.

AR16

The Super Light System (SLS) can be installed on various models of tables.
Using a remote control it is possible to change the illumination colour.Operators can either choose a permanent illumination colour or make a sequence of changing colours.
For a modest extra cost SLS makes casino tables incredibly eye-catching.
Operators can also match the illumination colours with the colour of their table layouts or their casino interior decoration.

AR17

The tables have perforated barrel bases with bright light coming from inside.
Perforation can be done in a form of a logo or it can present some theme, for example, space theme.
The tables can be manufactured in Classic or techno styles with brass or stainless still accessories.
Different colours of light blue, red and green can be used.

AR18

AR19

AR20
Gaming tables and accessories
TablesWin is the  premier Italian company  that is  now the top table manufacturer in Europe. JD has been working with them since 2018. Their tables combine stylish Italian design with great quality materials and assembly for a very good price.
You'll be in good company. Did you know that TablesWin is the table builder for all the WPT tables in the world?
Choose a model from the avant-gardiste collection or explain us what kind of table you wish as everything can be tailor-made. We even provide you with a render to show you how the tables will look like in your casino!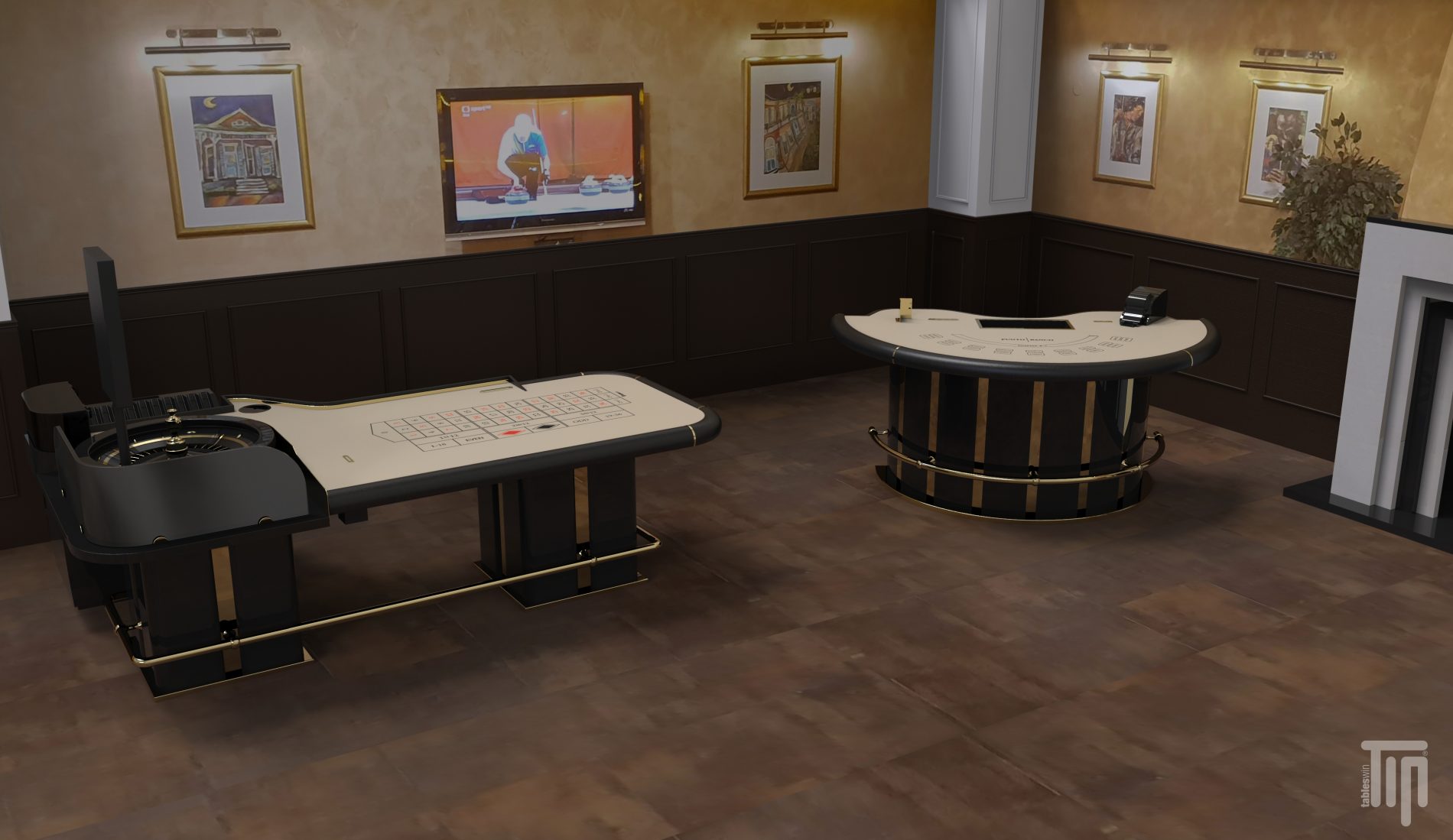 Consult the complete collection: